September 23rd, 2014
Drone Wedding is up for the next 3 months, a new work by Public Studio, commissioned for the Ryerson University Image Centre Media Wall in Toronto, Canada. Public Studio is an artist collective founded by film director Elle Flanders and architect Tamira Sawatzky, and includes other collaborators as the projects require. I have been the composer/sound designer for 3 multi-channel film installation works with Public Studio so far: Road Movie (2011), What Isn't There (2014), and now Drone Wedding.
Drone Wedding is a multi-channel video installation which reflects on pervasive contemporary surveillance society against the frame of drone reconnaissance and targeted strikes. Cameras collect a tremendous amount of data in all aspects of daily public and private life; Drone Wedding considers the more ominous element in this flow of images– who's watching, who is being watched, and how comfortable or knowledgeable is Canadian society with this growing surveillance infrastructure and how it is being used, who is being targeted, at home and abroad?
I crafted the sound from a number of radiophonic sources–encrypted radio communications (including numbers stations), military ground-air talk, ambient radiation from electronic devices via induction coils and VLF antennas, video documents made public by various watchdog organizations, misfiring AM radio transmitters, etc. It's in the air all around us–devices and people, recording everything.
Watch the composite version of the video here
Short review by the Globe and Mail here
August 20th, 2014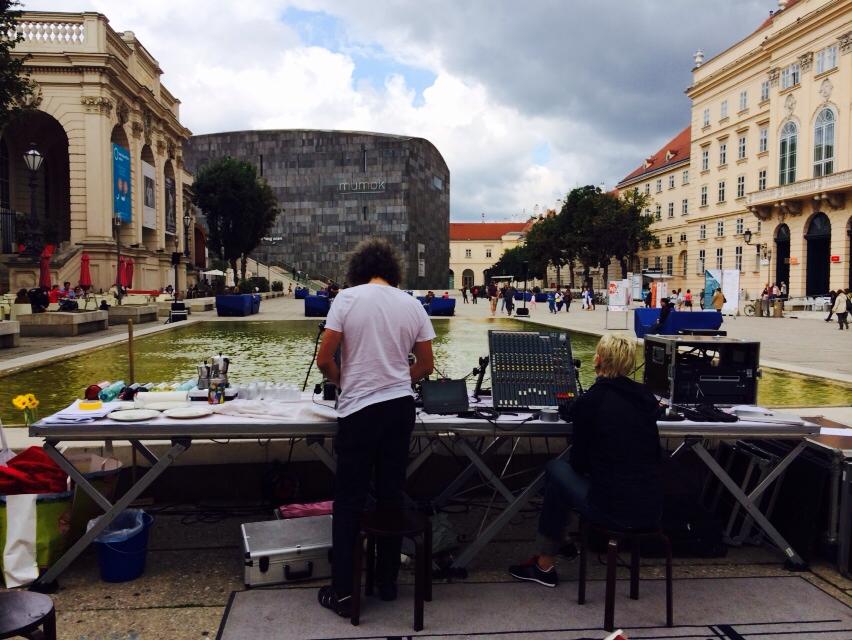 I've been here in Vienna the past weeks, in residence at quartier21 and working on some new multi-channel performance pieces for TONSPUR für einen öffentlichen raum, which I performed outdoors last weekend (16-17. August, 2014) in a special TONSPUR live_open_air event in the courtyard of the MuseumsQuartier, as part of the MuseumsQuartier Summer of Sounds.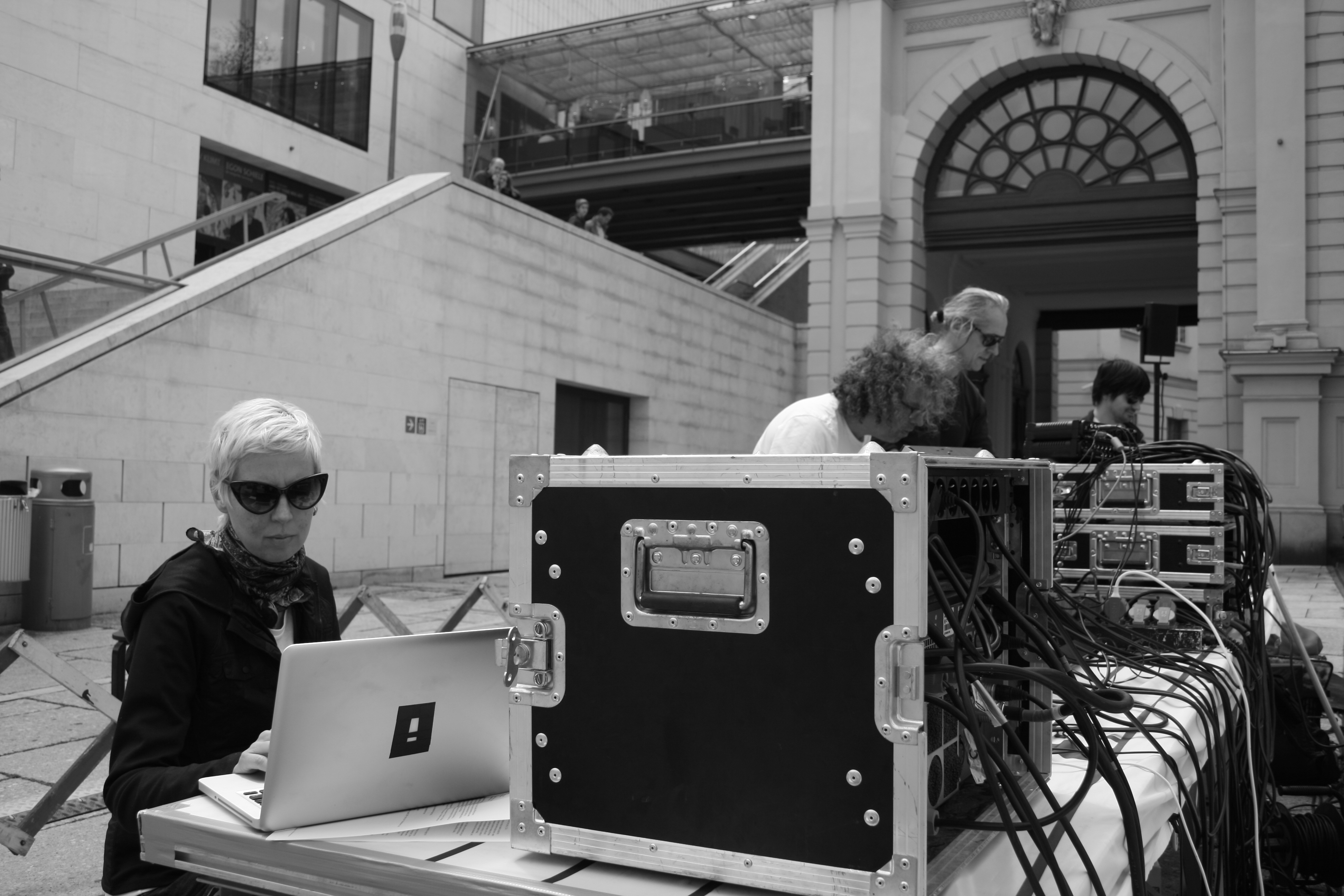 That's the thing about doing outdoor shows… It starts of a bit chilly or windy, with intermittent sun, but you really abandon control in favour of improvisation with the present elements and the whims of weather… I was interviewed in advance by the Summer of Sounds blog, and I guess I shouldn't have been so quick to talk about the inherant instability of the outdoor situation, as we were quite thoroughly rained upon on saturday.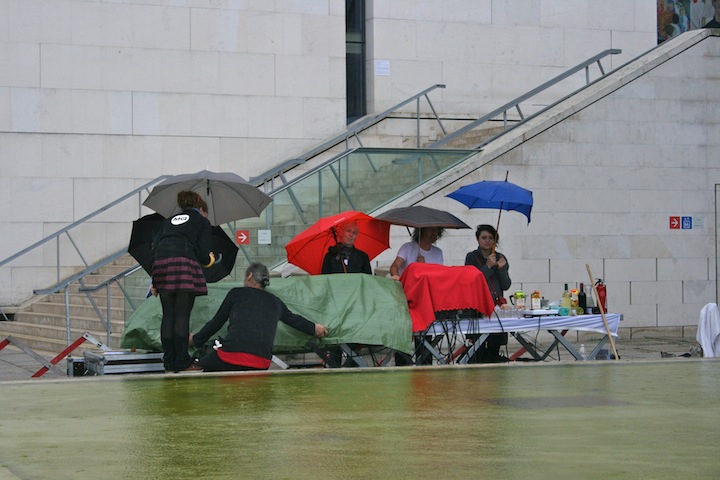 But Sunday was gloriously sunny, and a wonderfully chilled-out listening vibe pervaded the museum courtyard.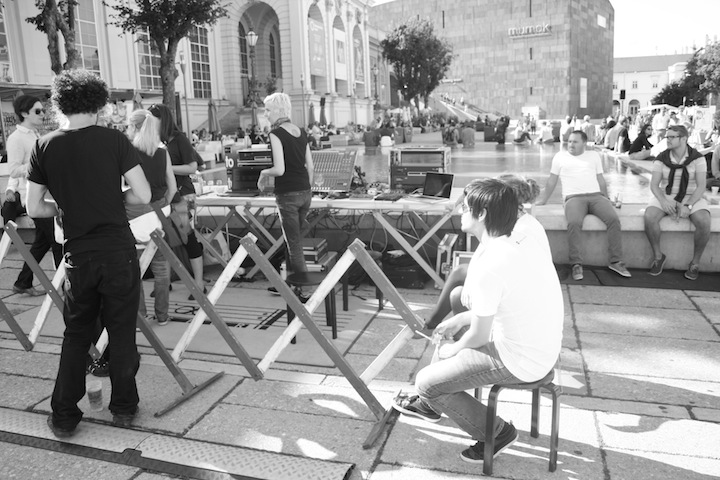 The programming was a mix of composed pieces chosen by Darren Copeland of NAISA Toronto, hence the theme for the event A Gathering of Canadian Sounds. In addition, I played some composed multi-channel pieces of my own, including Collecting Clocks and Losing Time, and performed a new piece called Breakwater live. We ended with a little piece for the pool we'd been stationed around, that I put together with the help of a volunteer 'wineglass choir', to play with the pool in the courtyard through the pitchy resonance of wineglasses.
There's a little video taste of the wineglass piece, called Half Full, Half Empty, posted HERE.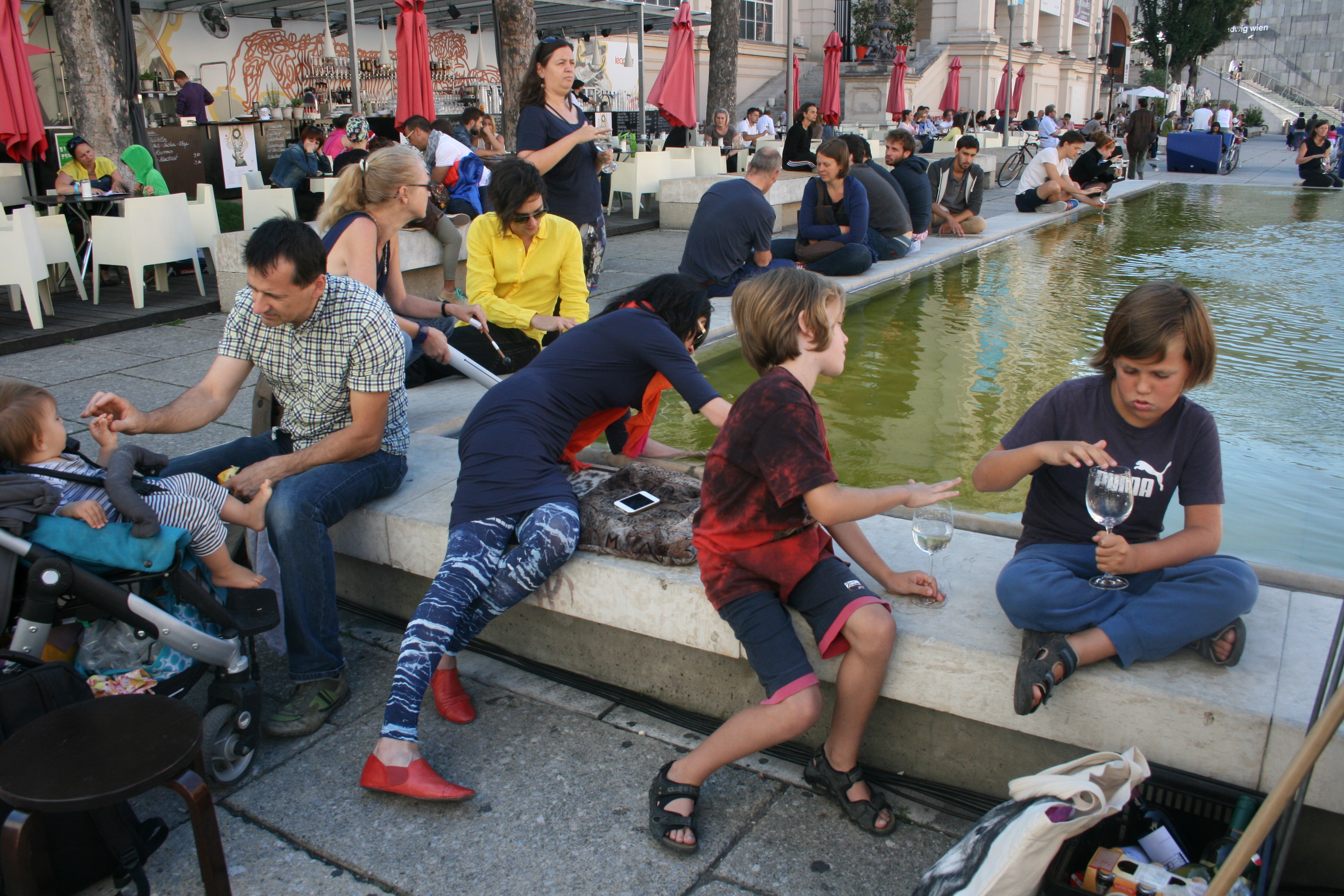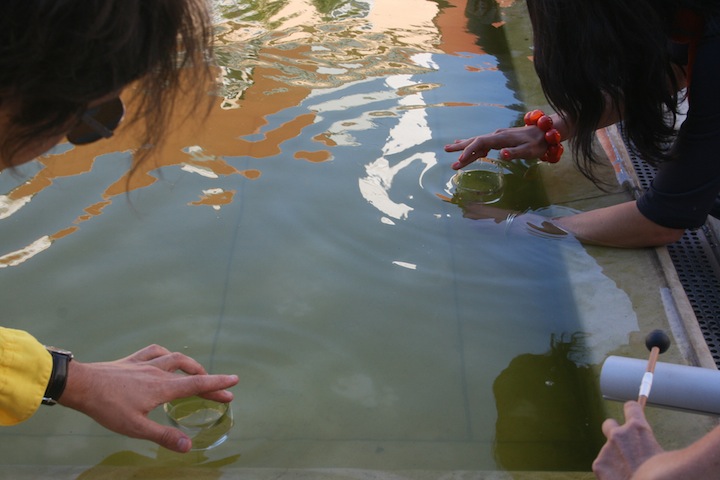 Many thanks to all who came out to play, including all the TONSPUR folk, Elisabeth and Roland, Jeanette and Jonathan and friends, Moritz and friends, Magda, our MQ assistants, and the sounds stars on the hydrophone, Norbert and Andrea! Thanks also to Sabine Groschup for the photos!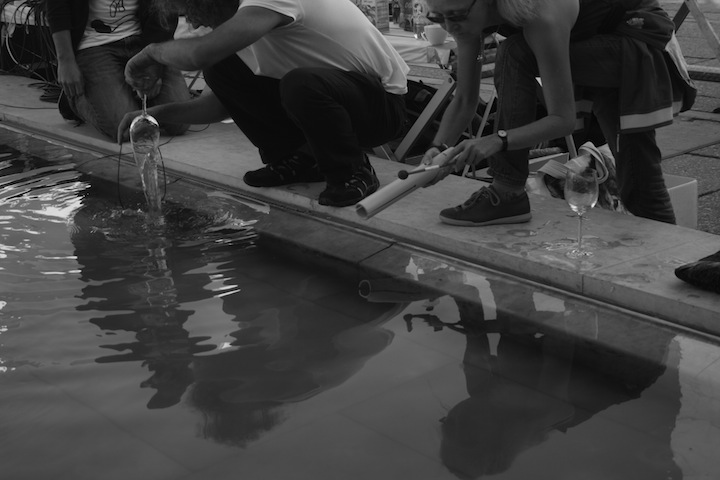 August 8th, 2014
I am currently housed in the MuseumsQuartier cultural complex here in Vienna, as part of the international artist residency program of quartier21, on invitation of TONSPUR. Initially built in the 18th century as the imperial stables for the Hapsburg Emperor, now the MQ is a hub for art and open-air summer enjoyment, with art crammed into every nook, cranny, and courtyard.
TONSPUR is the brainchild of Georg Weckwerth and Peter Szely, and features a permanent installation in a passage of the MQ, as well as mobile open-air 8-channel concert and installation events. For the MQ's Summer of Sounds, I'll be performing in the series TONSPUR_live_open_air_2014, featuring Canadian multi-channel works, guest curated by Darren Copeland of Toronto's New Adventures in Sound Art.
Read about it HERE, in a little interview I did on the Summer of Sounds blog (German speakers only).
In preparation, I'm busy in the production studios of ORF Kunstradio (Austrian national public radio in Vienna) working on the new piece to be unveiled in live performances next weekend, 16-17. August here in the main courtyard of the MQ. It's all still in development, so long days in the studio…. But I'm not being too much of a vampire about it, I still let a little light into my secret sonic lair…
June 30th, 2014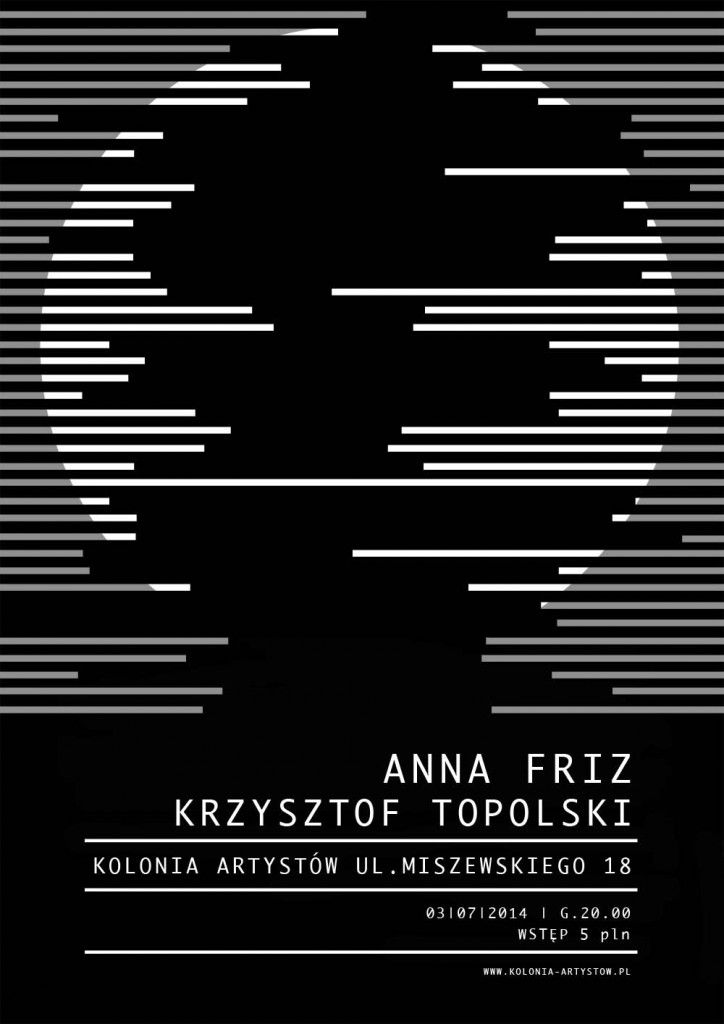 Thursday 3. July 2014, I'm performing together with Krzysztof 'Arszyn' Topolski
Kolonia Artystów | ul. Miszewskiego 18, Gdańsk Wrzeszcz  21:00
We'll be crafting a little site-specific set up for the space and peforming in/with it. Wires strung and radios hung.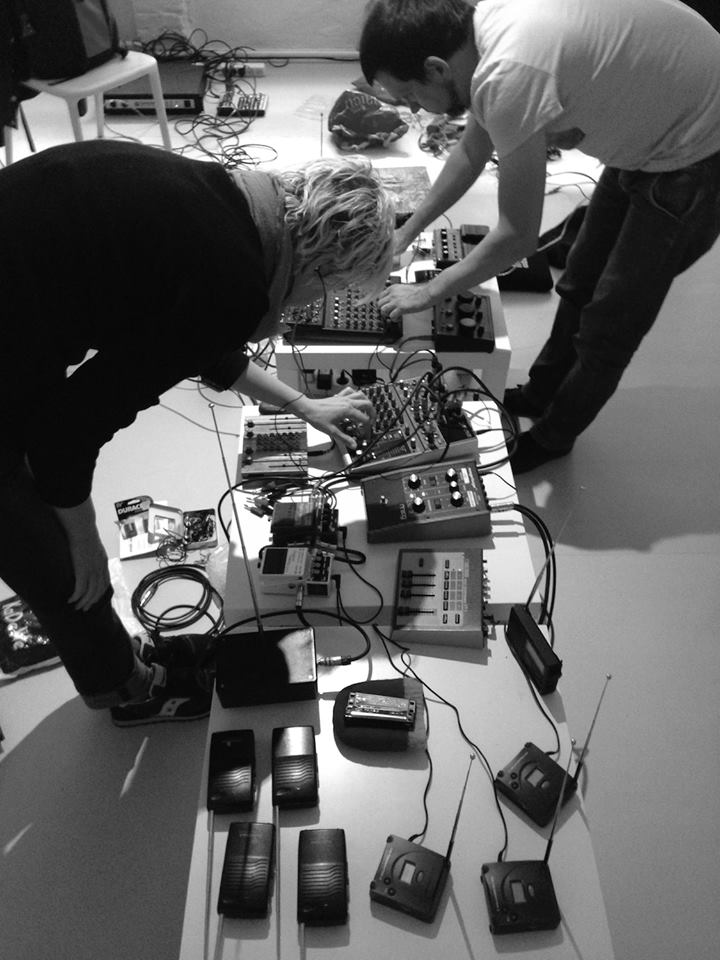 June 17th, 2014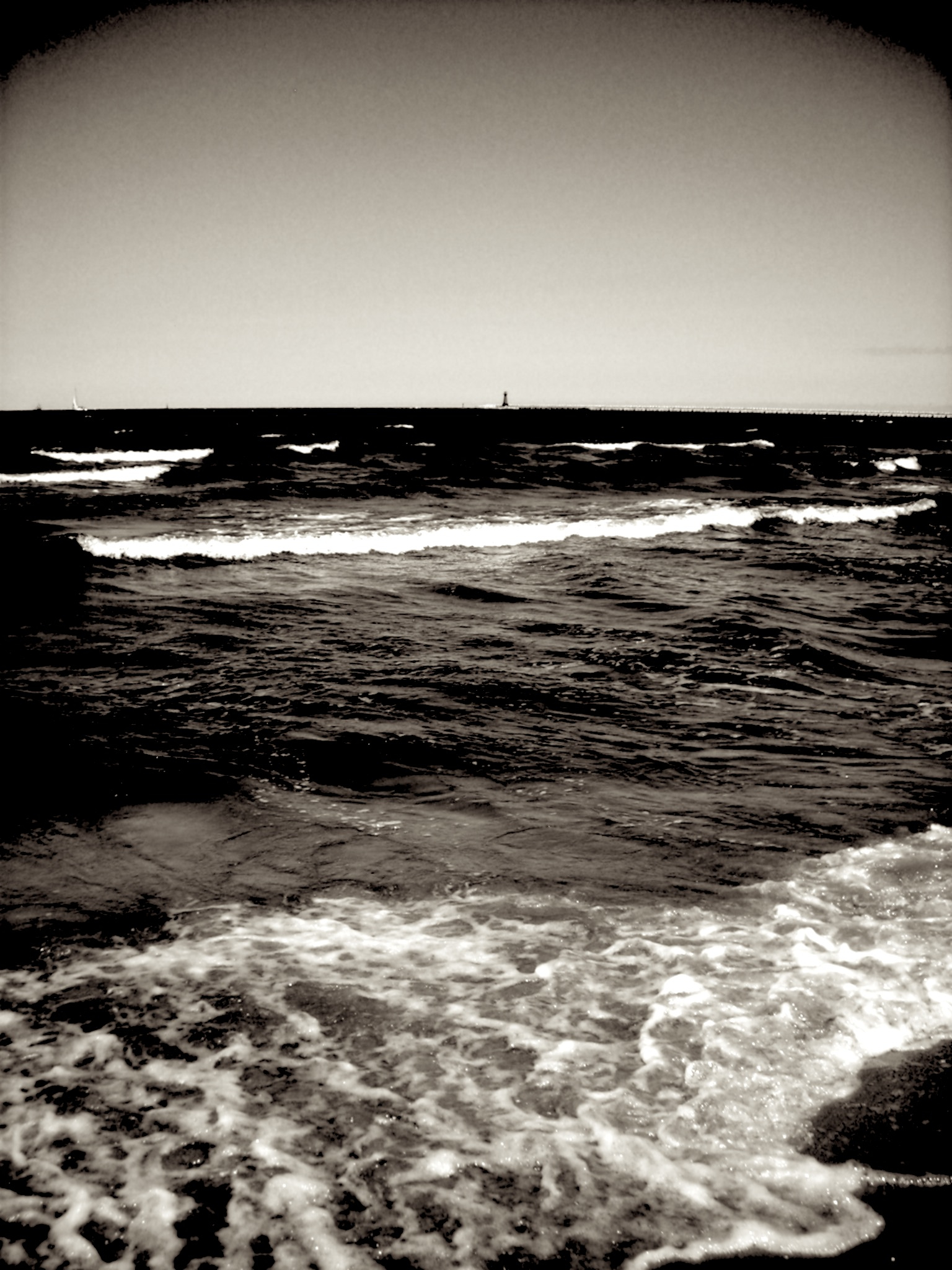 On 13. June 2014 I arrived in Gdansk, Poland, for a three-week residency at Laznia Centre for Contemporary Art during their Soundplay Festival and at the nearby Hel Marine Station. While here I'm researching underwater sound and marine mammal communication amidst the ambient (human) noise pollution in the Baltic Sea, with the intention of making some new sound works under the name Submergence, which I will research and develop here and present later in the summer.
But no trip to Gdansk could be complete without some photos of the impressive architecture, both mercantile and industrial…. and I'm developing a little side project about Gdansk's post-industrial infrastructre. If it's too rainy to go out on the sea, to the the shipyards, to the rooftops!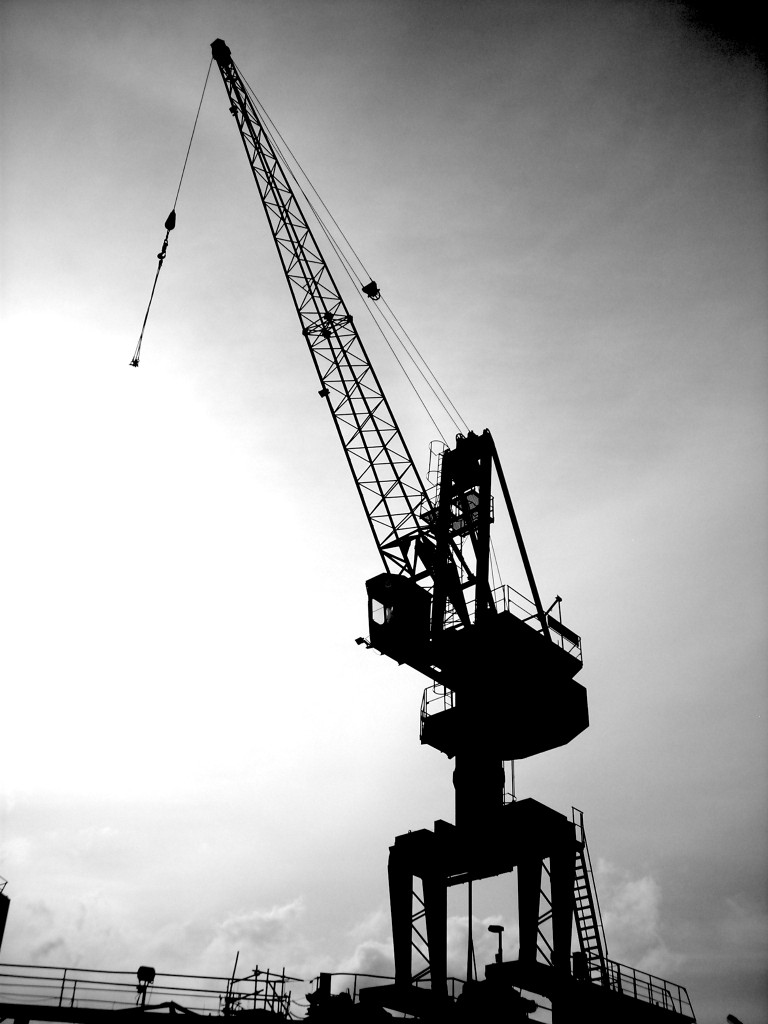 June 10th, 2014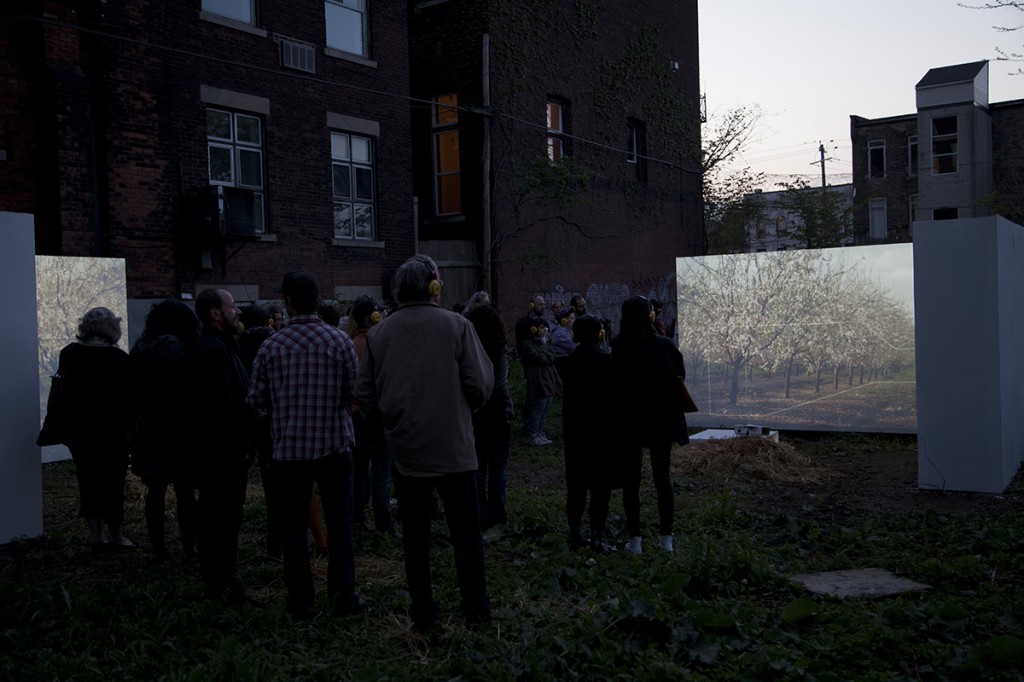 In March 2013 I working in Israel/Palestine with Elle Flanders and Tamira Sawatzky of Toronto-based Public Studio on their newest film installation, What Isn't There. The piece comes from nearly 20 years of photographing and filming on the sites of former Palestinian villages in Israel, an exploration of the politicized landscape in all its beauty, banality, and absurdity. The installation had its premiere in Toronto on May 22, 2013 in a one-night outdoor presentation, and consists of four channel video, accompanied by stereo sound (which visitors listen to on wireless headphones). It's a powerful piece, which truly immerses visitors due to the design and scale of the screens, the intimate sound, and very formal yet generous presentation of the subject. I'm super pleased to be part of the team, composing and designing the sound.
Public Studio never rests, so we're busy at our terminals working on a commission for Ryerson University, another audio/visual work called Drone Wedding. Wedding industrial complex meets military industrial complex, war meets the everyday under a familiar sky…. I wish I could say such an idea were a farce, but too often drone strikes abroad have targeted innocent civilian gatherings like weddings and parties. Drone Wedding will be up and running for the fall semester, from September 17-December 19, 2014 on the Ryerson University New Media Wall, in downtown Toronto, Canada.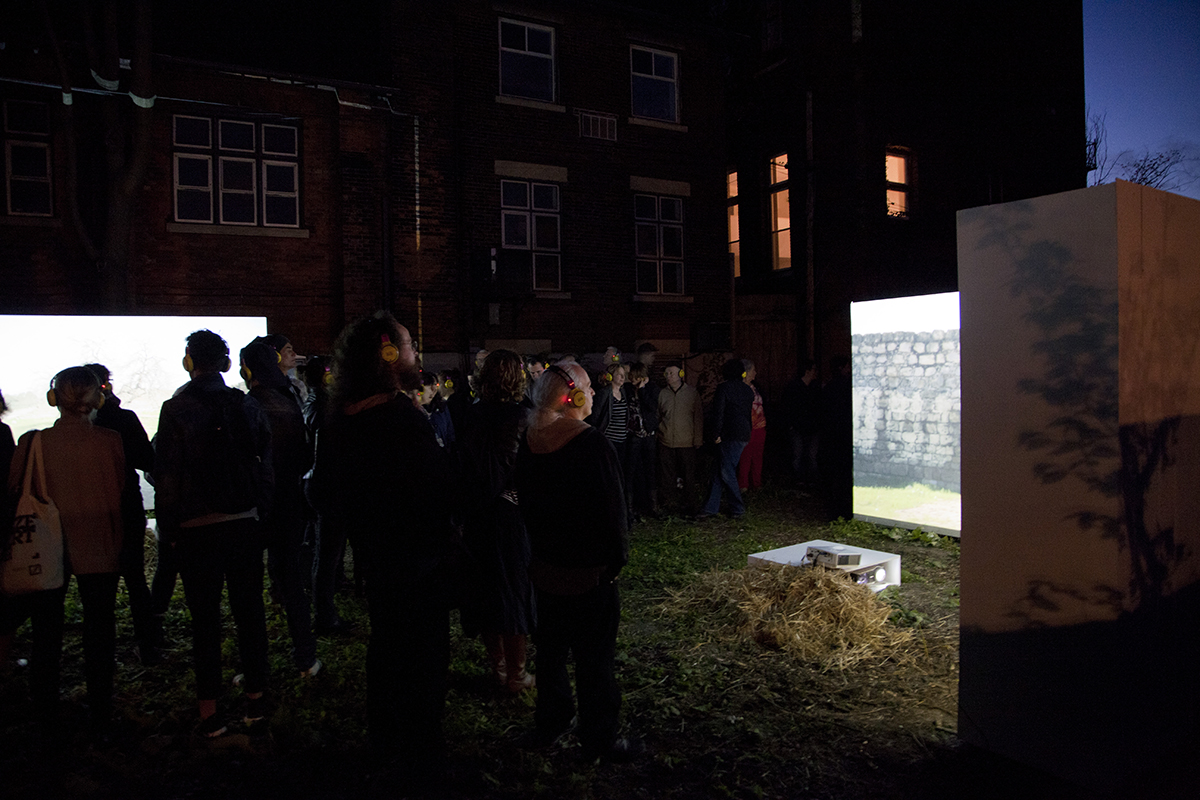 June 4th, 2014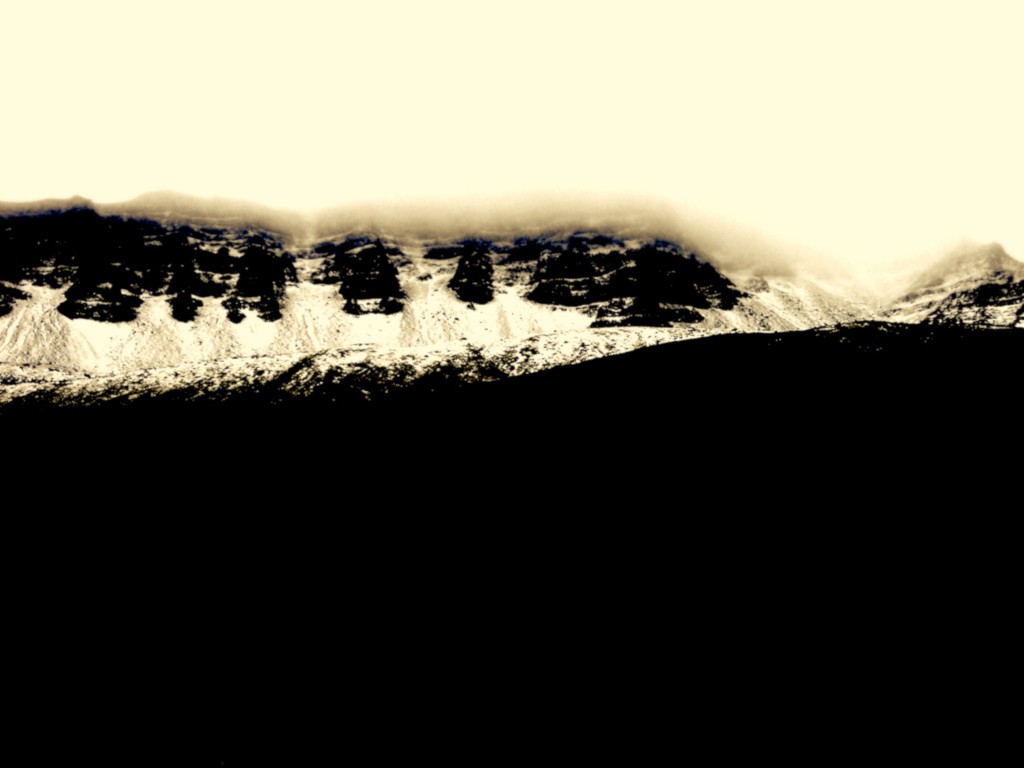 Back in October 2013, while on residency at Skaftfell Center for Visual Art in Seydisfjördur, Iceland, I crafted a 16:00 minute radio beacon to broadcast on my private transmitter every evening at sundown for a week. Radiotelegraph featured my first formal attempts at performing vocal morse code, laid over a bed of signals and oscillations. It was simulcast on the mighty Radius in Chicago, U.S. as episode 44 in their esteemed catalogue of transmission experiments.
In the last month, Radiotelegraph has made its way around the world in various ways:
-featured on Radius' Sketchpad series on WGXC New York and the Wavefarm's Transmission Arts archive, May 23, 2014
-featured in the latest curated playlist of Radius' PATCH series on WFMU New Jersey and the Free Music Archive (FMA), posted June 1, 2014. This series includes three Radius episodes that reflect on the concept of distance.
-featured as part of radio trickster Gregory Whitehead's edition of Radio Yak, heard on the brand new Soundproof program, Radio National of the Australian Broadcasting Corporation, aired May 25, 2014.
And finally… tomorrow I'm on my way to give a paper at the Radio As Art conference at the Weserburg Museum Studienzentrum in Bremen, Germany, taking place from 5-8. June 2014. I'll be talking about "The Wireless Experience of Distance". The whole conference will be streamed by Mobile Radio here, including some really nice curated overnight programming from the Radia network and ORF Kunstradio.
May 22nd, 2014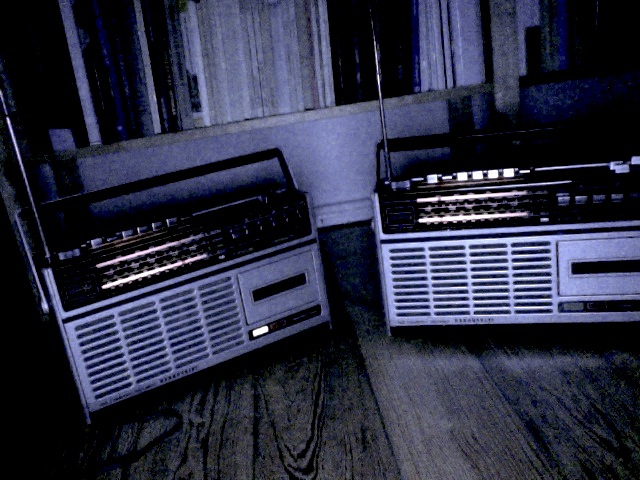 This week and next, Konrad Korabiewski and I are taking the twins out for a spin….
Two performance works for multi-channel radio, featuring two vintage Telefunken Bajazzo radio/cassette decks, multiple micro-FM transmitters, and a chorus of supporting radio receivers. We employ lo-fi instruments, spectral monitoring, and intricate feedback systems to craft an expressive and intimate world from the sensuality of signal and noise.
By working with small-scale circuits of transmission in performance, we seek to transform radio away from its everyday role as an apparatus of entertainment or information diffusion; instead proposing radio as instrument, as landscape, and as a poetic space of reverie.
Friday May 23, 2014  Gallery Liebig 12, Liebigstrasse 12, 10247 Berlin DE  20:00 sharp

Friday May 30, 2014  Nomadentappe/Memphis, Untere Donaulände 12, Linz AT  20:00
The concert in Linz will also include an artist talk.
Part of the ongoing activities of Skálar Center for Sound Art and Experimental Music which acts as both an artist collective and a curatorial platform, and produces a nomadic festival and international exchanges.
April 21st, 2014
Some news from the Uhrwald, where cuckoos nest at night: I'm very pleased and honoured to have been awarded second place in the Prix Palma Ars Acoustica 2014 for Collecting Clocks and Losing Time (2013), a feature-length radio art composition created in 5.1 surround sound for ORF Kunstradio, on the Austrian national public radio.
Collecting Clocks and Losing Time is part of a body work I've been developing over the past four years of iterative experiments with radio and timekeeping, and includes Studio Time (2013), 5 Times (less a hundred) (2012), Measure the time taken (2011), For the time being (2010), and the ongoing project Zero Hour. This piece has some special emotional resonance for me, as it was composed around recordings of my late father's cuckoo clocks, one of which was broken in such a way as to eternally cuckoo until the escapement runs out. In addition to the individual eccentricities of these clocks, the work features manipulations of the atomic clock, or coordinated universal time as broadcast globally on shortwave frequencies. It would be fair to say I've been obsessed with broadcast time since the mid-1990s, and since making Collecting Clocks and Losing Time, I have continued my focused manipulations of clocks in longer form works for overnight broadcast, particularly the 5-hour work Uncoordinated Universal Time (2014).