February 8th, 2022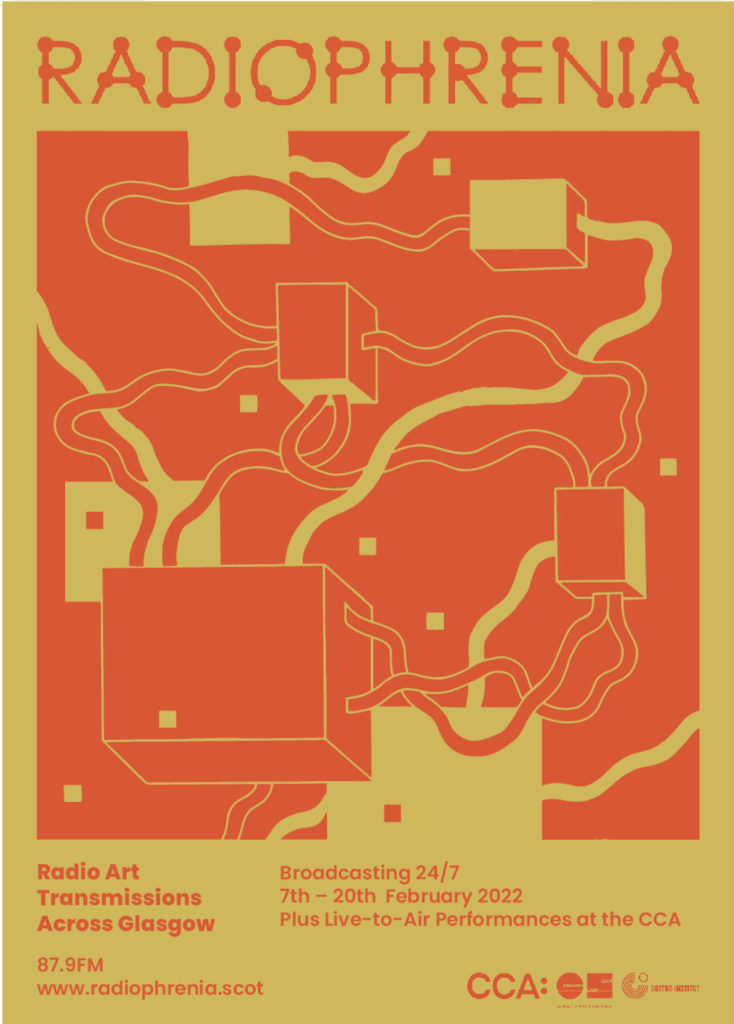 Radiophrenia has launched, the excellent radio art project in Glasgow, heard on FM, on-site and online from February 7-20, 2022, transmitting from the Centre for Contemporary Art.
I have a couple of collaborative projects broadcasting as part of the overnight slots: the NRRF Radio Collective's We Interrupt This Broadcast (2021) and my ongoing collaboration with Absolute Value of Noise/Peter Courtemanche on the project Solar Radio (which will also soon be a permanent installation at Wave Farm in Upper Hudson Valley in 2022).
Tune in:
February 12, 2022 01:00-05:00 and February 16, 2022 03:00-04:30 Glasgow time for Solar Radio
February 8, 2022 0:00-02:00 and February 11, 2022 05:00-07:00 Glasgow time for We Interrupt This Broadcast
December 12th, 2021
Jeff Kolar and I have a new duo work streaming today for the project 12-12-12-12 initiated by Christof Migone.
The second in a series of twelve annual events taking place on December 12 from noon to midnight EST (9-9 PST, 11-11 CST, 17-05 GMT, 18-06 CET, 1-13 CST, 2-14 KST). Each year the event moves through each word of the 12-word phrase you and I are water earth fire air of life and death and activates the word of the year in myriad ways.
This year the word is 'and', consequently the focus is on repetitions, conjunctions, and duos. Last year it started with 'you', this year we connect you to anything and everything, we connect you to what you are together-with. Or, we get stuck in the very act that 'and' opens up, into the enormity that the so-what-next that 'and' implies.
LINKS
– Link to main info page on the 12-year project here.
– Link to project page here.

-AND- HOUR 2 (10 PST, 12 CST, 13 EST, 18 GMT, 19 CET, 2 CST, 3 KST)
Radius (Chicago) PRESENTS Anna Friz (Santa Cruz) and Jeff Kolar (Chicago)
The end is pretend
Time does not pass, it accumulates. A series of gestures, repetitions, and refrains; human loops which may not last but do linger.
Anna and Jeff have collaborated together for more than a decade on various musical and radiophonic projects around the world, most often in the form of live improvisatory performances and broadcasts. In early March 2020, we met in Chicago to perform and to record new sound work. That week together was the last before the lockdowns in response to the COVID-19 pandemic began, so we were studiobound in that very uneasy moment before the many changes to come. We each created small sonic loops from a very limited palette of instruments or devices, including a radio scanner to pick up local two-way radio frequencies from shortwave to police talk. We are returning to these sonic moments 18 months later, passing them between us over greater distances this time, up to three exchanges of accumulating layers. This is a process of navigating public and personal crises buoyed by our artistic friendship.
A gesture, and a gesture, and a gesture. And another. And an other. And each other.
LINEUP for 12 hour stream:

-AND- HOUR 1 (12 EST)
Fado (Toronto) PRESENTS Erika DeFreitas (Toronto) and Adrian Piper (Berlin)
-AND- HOUR 2 (13 EST)
Radius (Chicago) PRESENTS Anna Friz (Santa Cruz) and Jeff Kolar (Chicago)
-AND- HOUR 3 (14 EST)
Zone Sound Creative (Taipei) PRESENTS Po-Hao Chi (Taipei)
-AND- HOUR 4 (15 EST)
Resonance Extra (London UK) PRESENTS James Greer & Neil Luck, Merlin Nova, and Milo Thesiger-Meacham
-AND- HOUR 5 (16 EST)
LOOP (Seoul) PRESENTS Byungjun Kwon (Seoul)
-AND- HOUR 6 (17 EST)
CRiSAP (London UK) PRESENTS They are all of them themselves and they repeat it and I hear it (Anna Barham & Irene Revell) (London UK)
-AND- HOUR 7 (18 EST)
squint press (Québec/Toronto) PRESENTS Different From The One You Are In Now with: Mary Walling Blackburn, Allison Cameron, Barbara Campbell, Budhaditya Chattopadhyay, Darren Copeland, Renato Grieco, Michaela Grill, Sarah Hennies, Marla Hlady, Seth Kim-Cohen, Francisco Meirino, Salomé Voegelin.
-AND- HOUR 8 (19 EST)
Array (Toronto) PRESENTS Renée Lear (Toronto) and Christof Migone (Toronto)
-AND- HOUR 9 (20 EST)
Western University (London ON) PRESENTS Ellen Moffat (London ON) and Eeva Siivonen (London ON)
-AND- HOUR 10 (21 EST)
Avatar (Québec) PRESENTS Béchard Hudon (Montréal)
-AND- HOUR 11 (22 EST)
Wave Farm (New York) PRESENTS LoVid (New York)
-AND- HOUR 12 (23 EST)
Errant Bodies Press (Berlin) PRESENTS undo (Christof Migone (Toronto) & Alexandre St-Onge (Québec))
PAST EDITIONS
YOU-
1st edition, December 12, 2020
– Link to archive of YouTube livestream here.
LINKS
– Link to main info page on the 12-year project here.
– Link to project page here.
December 9th, 2021
NRRF Radio returns, this time taking on the audio cultures of patriotism, specifically national and state anthems.
Radio and television stations around the world regularly play their national anthem, either at the end of the broadcast day or at a designated hour. In the US the practice was amplified under the COVID-19 pandemic on conservative networks. The imagined sound of everyone singing an anthem signals an equally imaginary unity around national identity. But this pantomime rehearsal of a uniform national 'we' continually erases difference while the band plays on, singing of warped colonial American dreams to the tune of an inevitably mediocre melody in doggerel rhyme. In Irrational Anthem NRRF takes up various anthems of the Americas as a radiophonic method; to deconstruct and interrupt regularly scheduled patriotism; to add to this messy contemporary soundtrack; to form a noisy hymn of resistance and reflection for new collectivities that include difference, dissensus, rebellion and renewal. 
Invited by Tsonami Festival de Arte Sonoro, NRRF will be performing in Valparaíso, Chile on December 12, 2021, at 20h (UTC -3). Jeff Kolar will be live on site, with Jonny Farrow, Anna Friz, Stephen Germana and Peter Speer performing remotely from Abu Dhabi, California, Florida and North Carolina.
November 1st, 2021
A project of the Acoustic Commons, As if radio… broadcasts to Glasgow, Scotland during the COP26 meeting; a collaborative radio space created in response to the 26th UN Climate Change Conference of the Parties (COP26) in Glasgow from 31 October – 12 November 2021.
My collaborators and I are contributing two projects to the effort:
–Mechanical Velocities (created with Absolute Value of Noise) will air on Sunday October 31 at 14h Glasgow time.
-a new monthly program on WGXC entitled The Conduction Series kicks off its inaugural show for As if radio… on Friday November 5, 2021 at 19h Glasgow time. Featuring artists, educators and graduate students from UC Santa Cruz, SUNY Buffalo and CU Boulder, improvising together on the Mezcal platform created by August Black. Participants include: Travis Austin, Nima Bahrehmand, Betsey Biggs, August Black, Martin Freeman, Anna Friz, Jason Geistweidt, Max Goldfarb, Kyle Gonzalez, Paulus van Horne, Ryan Page, Tom Roe, Teri Rueb, Jason Sanford, Laurids Andersen Sonne, and Biyi Wen.
August 4th, 2021
This week, NRRF is back on the air, live in Chicago and Green and Columbia counties, New York, plus online all around the interweb.
NRRF Radio Collective Presents: We Interrupt This Broadcast
The world is burning: fires raging out of control; record heat and storms accumulating power and frequency; flooding ; disease vectors crossing the species barrier with ease. Apocalypse as usual. But we can listen to the radio: we interrupt our own broadcast to interrupt our own broadcast, and declare that "reception is interception". And also to say that rubber bands last longer when refrigerated. Tune in won't you?
7-10pm Thursday August 5, 2021 Central Daylight Time (GMT -6).
In Chicagoland, listen in live on the north side at 87.9FM; streamed live on Wave Farm Radio: NRRF Collective Presents; and in Green and Columbia counties, New York on WGXC 90.7FM from 8-10pm EDT.
NRRF is an ongoing series of radio art programs created and performed by the current NRRF collective composed of Jonny Farrow, Anna Friz, Stephen Germana, Jeff Kolar and Peter Speer. The group assembled in Chicago in 2012 at the Experimental Sound Studio for a summer residency making long-form, improvised radio art based on B-movie and sci-fi themes, deconstructing the genre for its tropes and stereotypes. The NRRF collective emphasizes abstract improvisation and takes as many tangents as possible. This results in an unpredictable mix of open sound fields, occasional narratives, spaceships that fail to launch, and even singing. 
June 3rd, 2021
Extremity Cassette is a generative audio piece that imagines samples on a near-endless stretch of audio tape. Wound through a complex, multi-head cassette machine, the samples overlap with themselves, repeat, vanish and reappear. The magnetic nature of the machine itself picks up noises from the ether and mixes them with free reed and heterodyne sounds.
Inspired by the short story The White Death by Stanislaw Lem, where a planet made entirely of inorganic material is the crystalline host to fabulous machines, Extremity Cassette imagines a prehistoric mechanism that loops and churns out a never ending, ever changing musical score. Until one day the organic world is introduced … then rust interferes with the workings of the cassette … the sounds become progressively more erratic, and eventually stop.
Originally composed for Art's Birthday, 17 January 2009, Extremity Cassette will play overnight from June 1-7, 2021 on Radio Tsonami, originating from Valparaíso, Chile.
Absolute Value of Noise (Peter Courtemanche): VLF Antenna and Receiver
Anna Friz: Theremin, Harmonica, Kazoo, Melodica
May 26th, 2021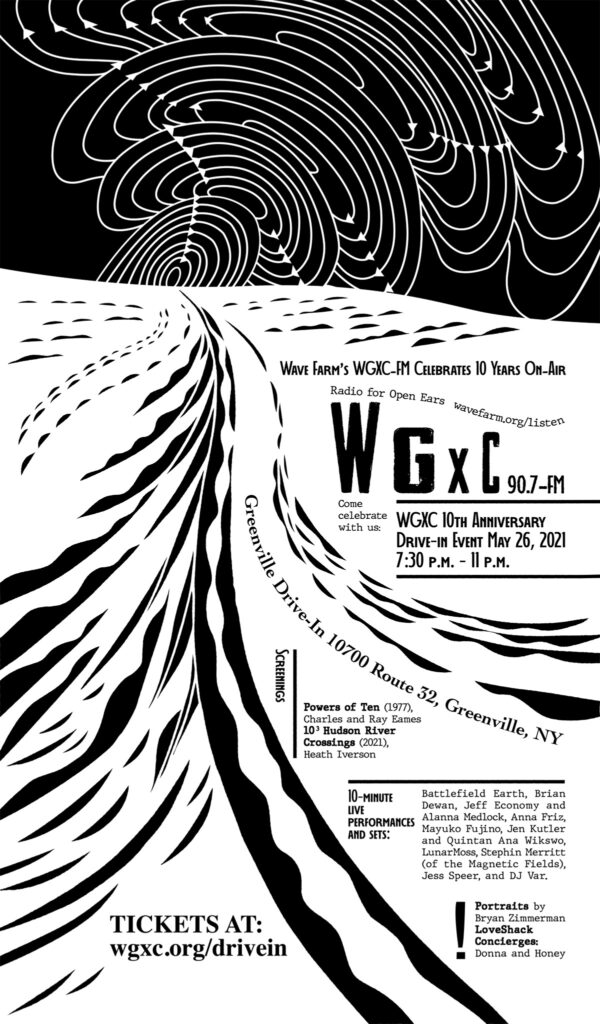 After more than a year of performing at a distance via radio and online broadcasts, I'm super excited to do my first live show tonight since January 2020!! Come on down to the Greenville Drive In theater, come rain or stormy weather (which there may be a bit of tonight). In celebration of the mighty WGXC, broadcasting high power community radio to Green and Columbia counties in New York state for past 10 years, I'll be part of the festivities and doing a new 10 minute piece called "10 Band Radio" (note the emergent theme here….) Will there be walkie talkies? You betcha. And probably some silver rain gear.
The rest of the week I'm here in a mini-residency at the Wave Farm, doing live radio from the Acra studio at Wave Farm on Thursday May 27 2-4pm New York summer time to wrap up Jess Speer's Wave Farm fellowship, and a solo show Friday May 28 4-6pm where I'll be making some new improvised radio art incorporating recent recordings and environmental media of all sorts with electronics and voice. Listen here.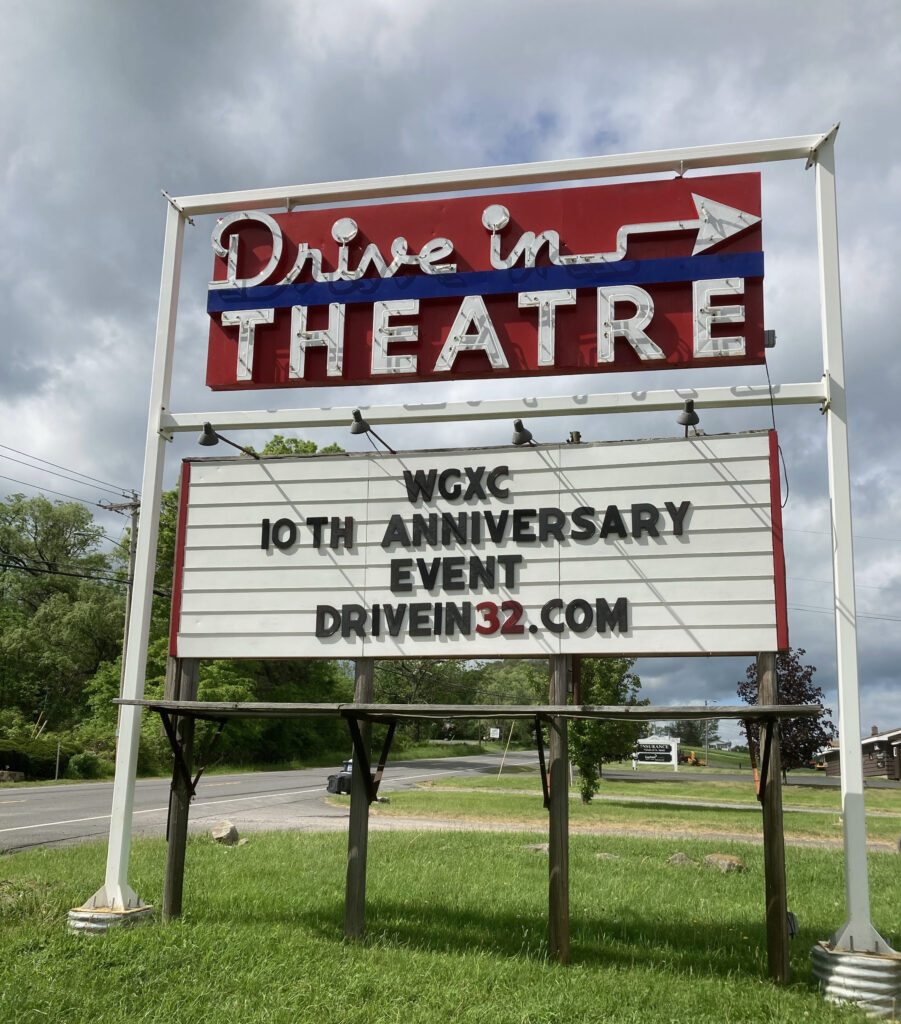 May 7th, 2021
Very pleased to have 2 pieces in the current Rewire Festival, the International Festival for Adventurous Music usually taking place in The Hague, Netherlands, which is online this year.
The Joy Channel, created with Emmanuel Madan, is playing on the Rewire Radio presentation channel on Sunday May 9, while my solo commission with Radiophrenia in 2016 How To Pack A Whale airs on Friday May 7.
Checkout all lineup and links here!