Multi-channel transmission performance (30 min) and/or installation  (2008-2009)
First performed at RadiaLX 2008 in Lisbon, Portugal (September 2008); subsequent performances include Sound Thinking 2009 at the Surrey Arts Centre in British Columbia, Canada (February 2009), the Centre for Computer Research into Music and Acoustics (CCRMA) at Stanford University, California (March 2009), the Experimental Sound Studio (ESS), Chicago, IL, July 15-August 7, 2011, and Tsonami Festival de Arte Sonoro, Valparaíso, Chile, December 2012. The piece has been curated as part of the Radiophonic Spaces Walk-In Radio Archive and Platform for Listening Knowledge, installed at the Haus der Kulturen der Welt, Berlin Germany  (November 1-December 10, 2018) and the Tinguely Museum, Basel Switzerland (October 24, 2018- January 27, 2019), and University Library at the Bauhaus-Universität Weimar (July 26–September 19, 2019).

A large-scale installation version was commissioned for Scotiabank Nuit Blanche in Toronto, Canada (Oct 3, 2009).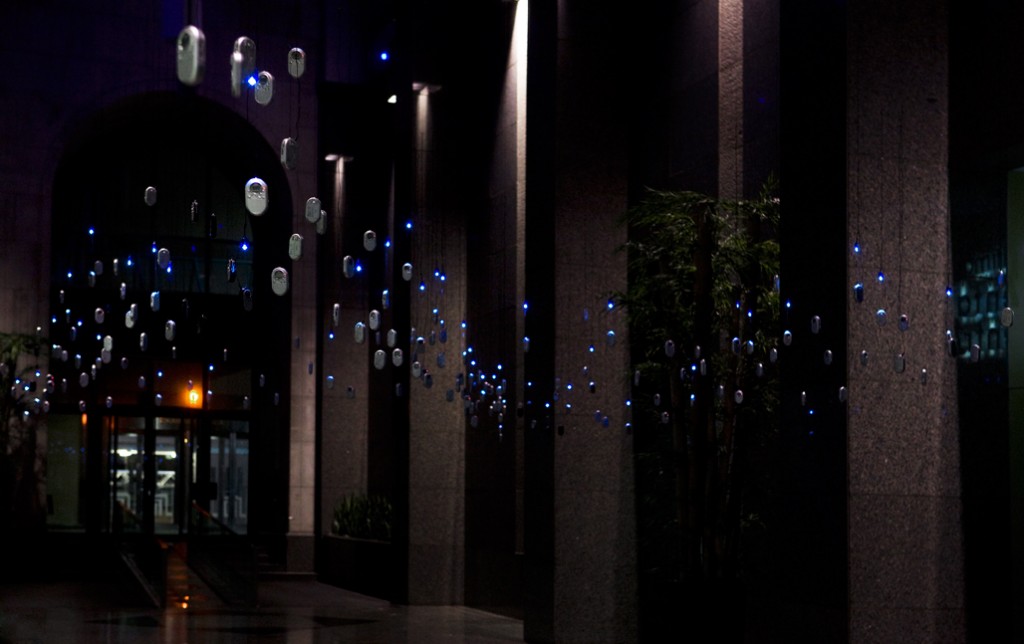 As a solo live radiophonic piece for FM radio and speaker array, Respire conjures other possible radio territories than the ones with which we are familiar, and adds intimacy to our experience of radio transmission and electricity. The sounds of breathing and other bodily exclamations typically absent from regular radio programming seep up through the welter of signals as the receivers play and emit their own oscillating frequencies. This milieu of harmonic interference and uneasy nighttime respirations reveals the invisible contours of the radio landscape that surrounds us.
Setting up Respire at Sound Thinking, 2009
The installation is realized as a multi-channel array of radio receivers suspended above visitor's heads, where breath emerges through the thin heterodyne music of the radios in the array and results in an immersive, dynamic sonic environment, lit only by small LEDs constellations.
In performance, speakers are added and installed in the ceiling of the venue above the radios, from which sounds emerge created from instruments that echo human breath (harmonica) or the detuned radio landscape (theremin).
Respire developed from You are far from us as a version which focusses more intensively on the interactions of breath and static, and is more portable for touring.
Performances of Respire in Lisbon, Portugal, and Tallinn, Estonia, supported by travel funding from the Conseil des arts et des lettres du Québec.