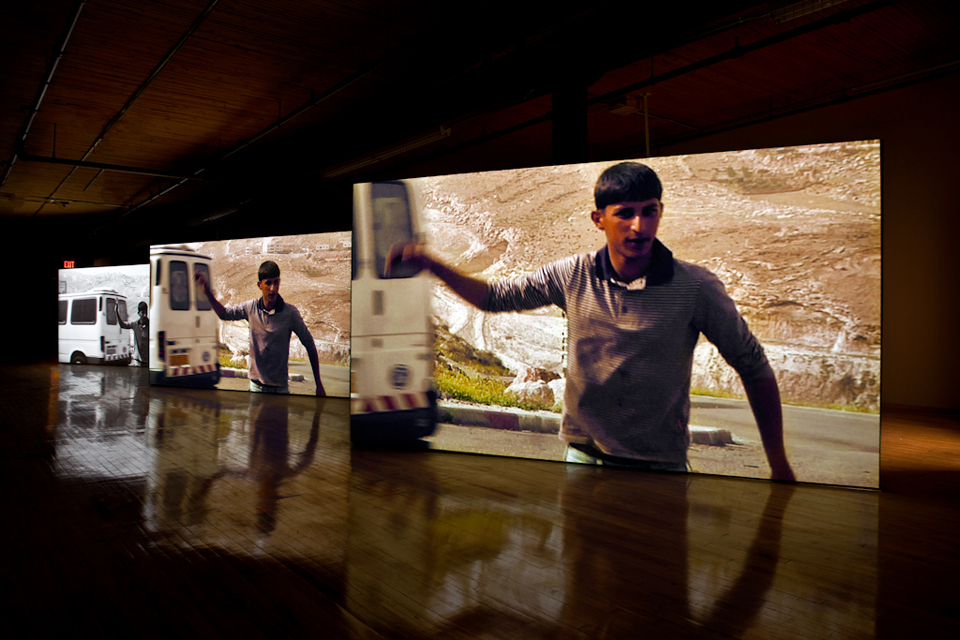 © Tom Blanchard 2011, Road Movie installation at O'Born Contemporary @ 51 Wolseley
I've been working like mad composing and designing the sound for Road Movie, a new multi-film installation by Elle Flanders and Tamira Sawatzky, aka Public Studio, which opens today in Toronto as part of the official selection for the Toronto International Film Festival. Three large double-sided screens show 12 short films about the segregated road system in the West Bank, to the accompanying soundscape which I've composed from field recordings, and my odd little stack of instruments, including some nice little mbira beats and harmonica drones. Near the door a small mobile of horn loudspeakers emits the various perspectives of Palestinians and Jewish settlers with whom Elle and Tamira drove the different roads. Watch the trailer here.
Public Studio explains what it's all about:
In 2009, we went to live in Palestine for a year in order to get a better understanding of the situation on the ground. Flanders, who was raised in Jerusalem, felt that in order to really connect with people and daily life, she needed to live inside Palestine, not just visit. Sawatzky had become interested in the architectural aspects of life under Occupation and together they decided to make a film that looked from the inside out. While much work exists about all aspects of this particular conflict, we approached this from another dimension– we take you, the viewer, into the landscape, into the land in meticulous detail, and allow you to move around in an installation, to give you an immersive and contemplative experience. We shot our films in stop-motion animation, a technique that allowed us to capture, frame by frame, the minutia of this often over-exposed place. Like surveyors, we track the land step by step, taking you with us into each frame.
The piece is produced by the National Film Board of Canada, and O'born Contemporary Gallery, Toronto. Those of you in Toronto can experience it for yourselves at 51 Wolseley Street, 5th floor (across the street from Theatre Passe-Maraille, near Bathurst and Queen W), September 8-18, 2011. Hours: Sun-Thurs, 12-6PM, Fri-Sat, 12-9PM.
© Tom Blanchard 2011, Road Movie installation at O'Born Contemporary @ 51 Wolseley