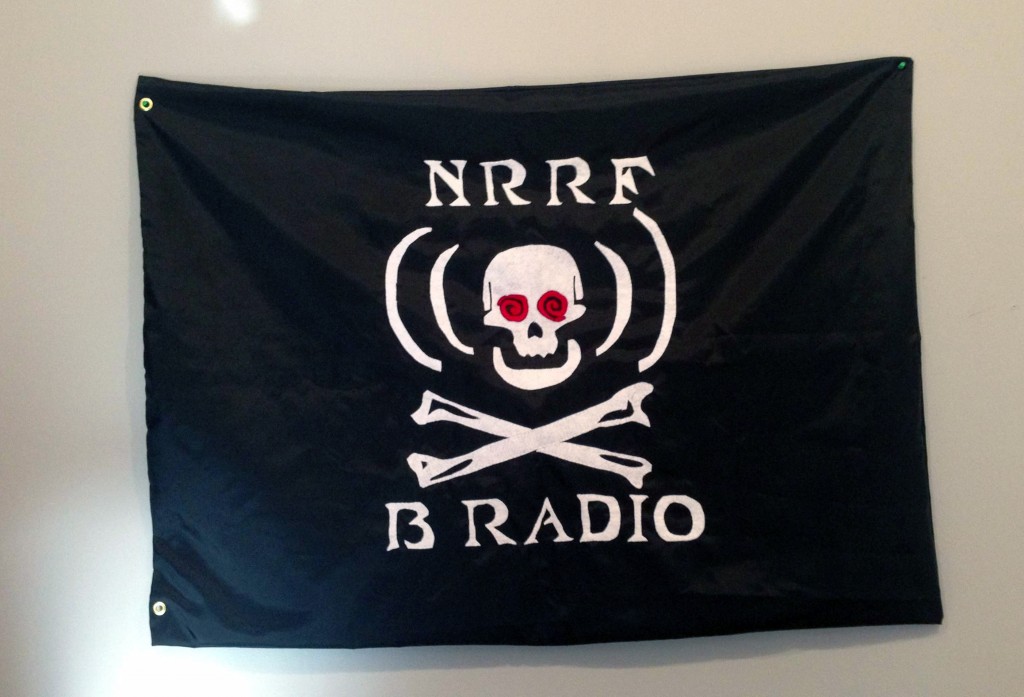 If you are in Chicago, come on down, up, or over to Experimental Sound Studio (ESS) where you will encounter at least five very soggy pirates having a picnic in the Bermuda Triangle. There will be costumes, custom cocktails, and very large knives! Sea shanties! Sentient squid! The innocent Devil's Triangle! It's B Radio, episode 4: Pirate Picnic in the Bermuda Triangle!
Here's how to tune in:
1. If you are within a several block radius of ESS, tune in to 87.9FM starting at 6pm CDT ending at 9pm.
2. Come to think of it, if you are within a several block radius of ESS, just come over and "watch" radio being made.
3. Use the innernets to listen — here's a link with instructions. Seems slightly complicated, but if you can cut and paste, you can get to radio space. http://transmissionarts.org/event/b8hyq4
More about NRRF B Radio:
B Radio: a series of radio shows mashing b-list genres with radio art. Each B Radio episode features a theme to structure the improvisational nature of the shows, though tangents are frequent and encouraged. It's live radio, streamed, with special guests and live audience. The core group of performers play live instruments and electronics, sample wildly, speculate broadly, and have been known to sing. NRRF is a collaborative effort to make unlicensed neighborhood radio art. For this Chicago iteration, the core group of noisemakers consists of Jonny Farrow, Anna Friz, Steve Germana, Jeff Kolar, Peter Speer, with Sarah Knudtson (documentation and props wrangling). Earlier projects include street radio in Montreal (2001), the NRRF Radio Roadshow (2004), and Radio Free Parkdale in Toronto (2005-2007).
More about Episode 4: "Pirate Picnic in the Bermuda Triangle":
Five jolly NRRF pirates set out to sea in their sloop to ride the radio waves. They quickly encounter a massive storm which diverts them into the Bermuda Triangle, where the ship is scuttled and underwater adventures abound, complete with creatures massive and minute, friendly and menacing. Finally they wash up on a remote island, and have to fend for themselves. This radio event might even include a cooking demonstration. Vegan option available.
"It's just the innocent devil's triangle / It dares you to come down, that's it's angle / That's the way of Bermuda." -Roky Erickson
"If you can't cook your friends, then who can you cook?" – Captain Cooke