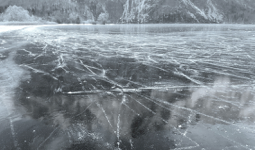 Settle in for quality listening on a long winter's night with radioCona ICEbreakerFM, and exhibition of sound and radio art on the FM dial in Ljubljana, Slovenia, and streamed worldwide online.
Curated by CONA | institute for contemporary arts processing: Ljubljana, Slovenia.
From Sunday 11th to Thursday 15th February, 2018,
FM 88.8 MHz and www.radiocona.si
every day exactly at nautical twilight, from 18:28 (GMT +1) on with one minute delay every next day.
My contributions to this 10-year retrospective of radioCONA includes a rebroadcast of a piece for two radio stations created together with Brane Zorman: 4 Channel Improvisation on Two FM Frequencies
Monday, 12th February 23:00 to 00:00 (GMT -1) heard in Ljubljana on radioCona 88.8 MHz & Radio Študent 89.3 MHz
ICEbreakerFM will also rebroadcast the following pieces from my past residency with Cona in Ljubljana, Slovenia: Trilogy for Night and Radio (created with Konrad Korabiewski), Whale Radio, and White Night.
"The anniversary of radioCona reveals the ten year long breaking and melting of ice of radio-frequency space, through which it is becoming more accessible for the contemporary art production and offers the public an opportunity to gain sensibility for listening to more complex sound artworks. Five day long broadcasting in the form of FM exhibition showcases the cross section of production of radioCona, that opened up the issue of use of radio frequency as a public and gallery space and inspired artists, who are participating in production and promotion of sound and radio art. "
Curators: Petra Kapš, Irena Pivka, Jasmina Založnik, Brane Zorman