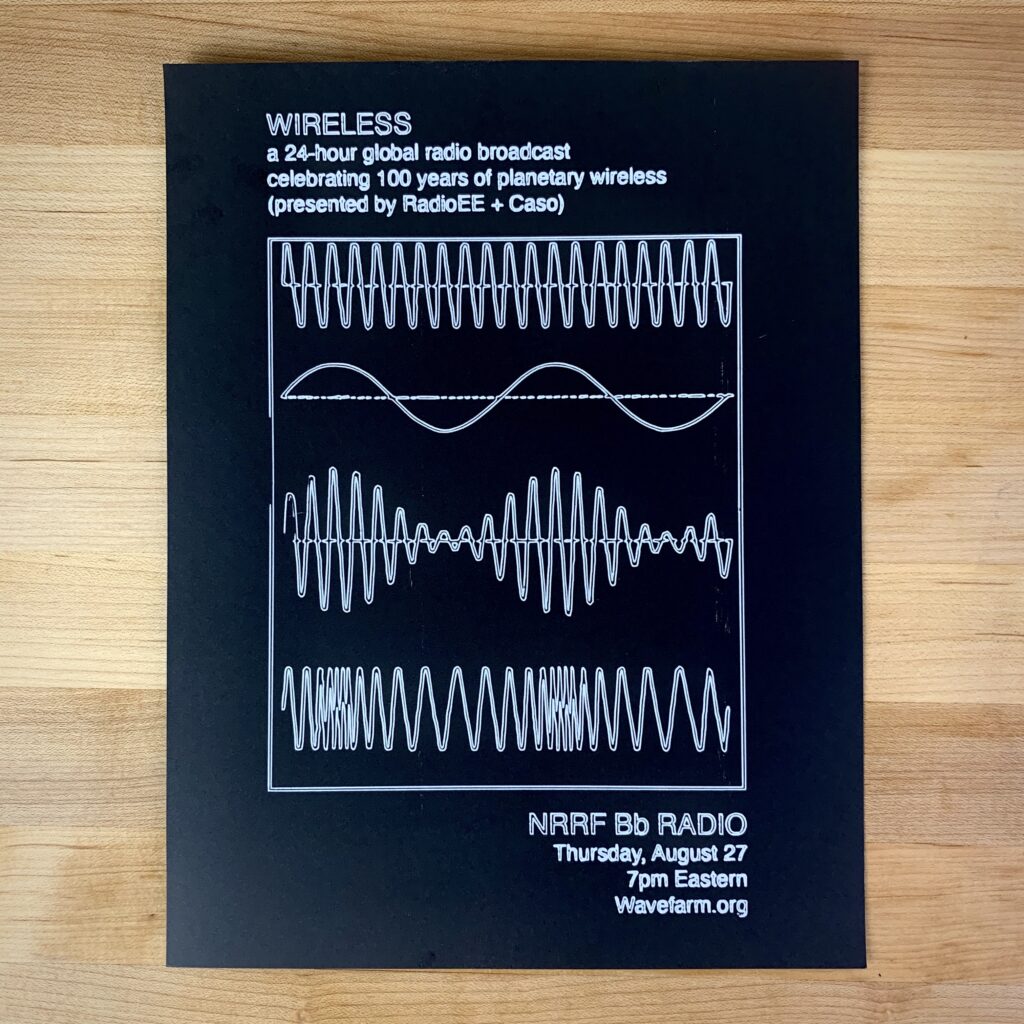 On the 100th anniversary of the first global entertainment broadcast, Radioee.net and online radio stations from across the world present Wireless, a 24-hr translingual radio broadcast about planetary wireless communication.
NRRF Bb Radio: The development of planetary radio practices and systems also brought the insight that Earth is continually bathed in radio signals emanating from points across the universe, from 'nearby' within our solar system or from vast distances in space and time. Departing from Velimir Khlebnikov's poetic observation in 1920 that "even starlight is a wireless signal", the NRRF collective eavesdrops on the radiophony coming our way, and encounters fast radio bursts, long waves, and even the loneliest wave of all.
NRRF is an intermittent collaborative effort to make unlicensed neighborhood radio art. Earlier projects include a series of clandestine FM broadcasts in Chicago, Montréal and beyond with a rotating group of collaborators. Since 2012 NRRF features Jonny Farrow, Anna Friz, Stephen Germana, Jeff Kolar, and Peter Speer. It's live radio expanded and improvised from various geographical locations, with the current group collaborating from Vermont, Florida, North Carolina, Chicago and Santa Cruz. The core group of performers play everything from traditional instruments to home built electronics, sample wildly, speculate broadly, and have been known to sing. @JonnyFarrow, @peter.speer, @jeffkolar, @wave_farm, @free103point9, @wgxc
On August 27, 1920, "The crazy people on the roof" (Radio Argentina Society initiators Enrique Susini, César Guerrico, Miguel Mugica, Luis Romero and Ignacio Gómez) installed a smuggled Marconi transmitter on the rooftop terrace of the Teatro Coliseo in downtown Buenos Aires. This broadcast of Wagner's "Parsifal" marked the first radio broadcast in Argentina and the first mass public entertainment broadcast in the world.
On August 27, 2020, Midnight to Midnight Argentina Time, Wireless explores radio pasts and futures, from technology to entertainment. Everything wireless runs on radio, radio waves are the medium of wireless internet. Through translingual dialogue, music and sound, Wireless will consider the various modalities of this evolving planetary condition–spectrum, networks, telecommunications, infrastructure, urban acrobatics, physics, entertainment and education. Each partner radio will rebroadcast the marathon stream, leading to an amplification of radio investigation, entertainment, and solidarity.
radioee.net is an online, nomadic, multilingual radio station. They host 24-hr broadcast events on mobility and movement. They take up topics of transportation, migration, and climate transformation, transmitting local voices, music, and sound to create an audio portrait of a place in time.