June 13th, 2013
NRRF presents: B Radio
Episode 3: Landfall on the Forbidden Planet
After a harrowing encounter with the Nebulaic Alliance, at which point they may or may not have been cloned, our intrepid NRRF cosmonauts leave the solar system to land upon a mysterious distant planet, enshrouded in fog and murk. Adventures on the Forbidden Planet and the Mandatory Planet ensue, with the possible cloning of the entire human species at stake!

Wednesday June 19, 2013  18h-21h.

LIVE radio at the studios of the Experimental Sound Studio, 5925 N Ravenswood, Chicago
Online (link TBA), and on air in the neighbourhood.
Streaming generously provided by free103point9 Transmission Arts, and the show will be rebroadcast on WGXC 90.7FM NY June 20, midnight-3am.
B Radio: a series of radio shows mashing b-list genres with radio art. Each B Radio episode features a theme to structure the improvisational nature of the shows, though tangents are frequent and encouraged. It's live radio, broadcast and streamed, with special guests and live audience. The core group of performers play live instruments and electronics, sample wildly, speculate broadly, and have been known to sing.
NRRF is a collaborative effort to make unlicensed neighbourhood radio art.
For this Chicago iteration, the core group of noisemakers consists of Jonny Farrow, Anna Friz, Steve Germana, Jeff Kolar, Peter Speer, with Sarah Knudtson (graphics, documentation and props wrangling).
Earlier projects include street radio in Montreal (2001), the NRRF Radio Roadshow (2004), and Radio Free Parkdale in Toronto (2005-2007).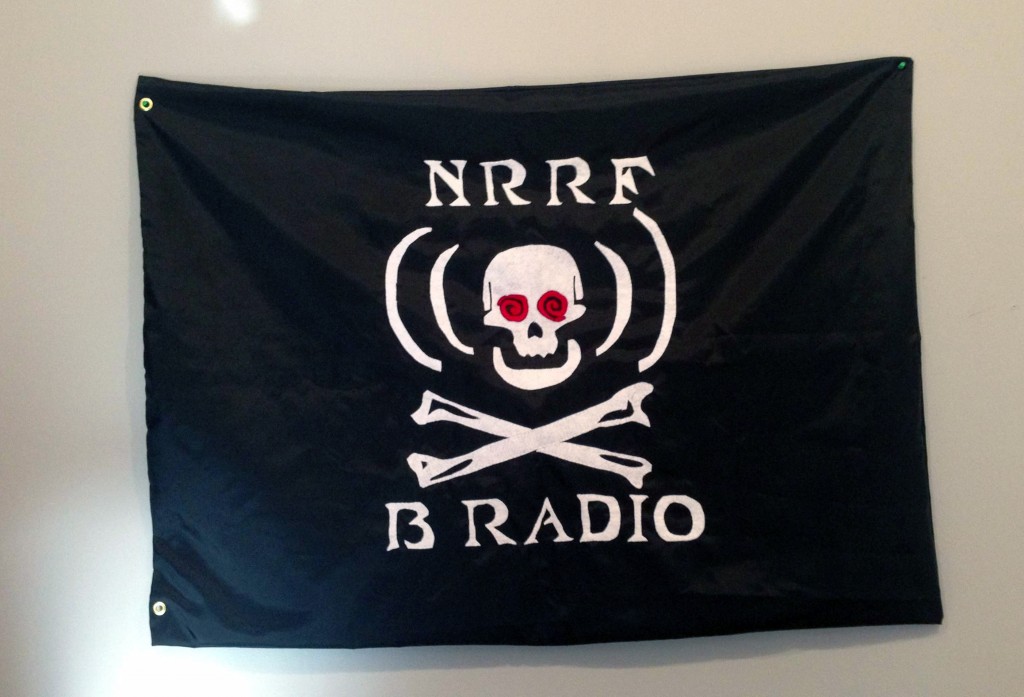 NRRF flag by Jonny Farrow.